Episodes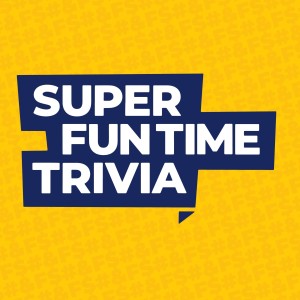 Thursday Sep 21, 2023
Thursday Sep 21, 2023
This week on the Super Fun Time Trivia Podcast, a real, honest to goodness film crew showed up and recorded our entire show to sell to a streaming service. Kevin and I are hoping they sell it to Disney so we can finally become the first ever Marvel Superhero / Disney Princess couple.

We also discuss wanting to be Lenny Kravitz's giant scarf, how the videogame Prince Of Persia was the Dark Souls of 1989, and if sports mascots pull loads of tail.
Music Round: HEY!
Patreon: Super Fun Time Trivia
Facebook: superfuntimetrivia
Instagram: superfuntimetrivia
Twitter: @sftimetrivia
Email: superfuntimetrivia@gmail.com
Intro Music By David Dino White.
Welcome to Super Fun Time Trivia: The known universe's only live improv comedy trivia podcast.